Initial Login#
i-doit is installed and you want to log in for the first time? No problem at all! However, there are a few things to keep in mind and that is why it's worth reading this article.
Default Users and Default Groups#
There are some default users for login which are assigned to default groups and therefore have predefined permissions.
| User | Password | Group | Permissions (short description) |
| --- | --- | --- | --- |
| admin | admin | Admin | All rights, also for administration |
| archivar | archivar | Archivar | Read and edit |
| author | author | Author | Create, edit, archive and execute |
| editor | editor | Editor | Read and edit |
| reader | reader | Reader | Read |
The listed users receive their permissions through the groups of the same name.
Login#
Preferably select the admin user from the above mentioned default users as this user's functionality is not restricted.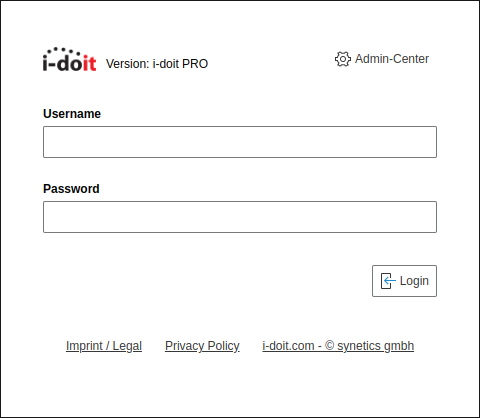 Add Further Users and Groups#
Each user in i-doit is an object of the type Persons. After the initial login, we strongly recommend to set up a LDAP connection or other local users and to change the credentials of the above mentioned users. For this purpose, you can select the particular user in the object group Contacts under the object type Persons and change the credentials in the category Persons → Login. Alternatively, you can archive the Persons objects. In doing this, the login of these users is denied.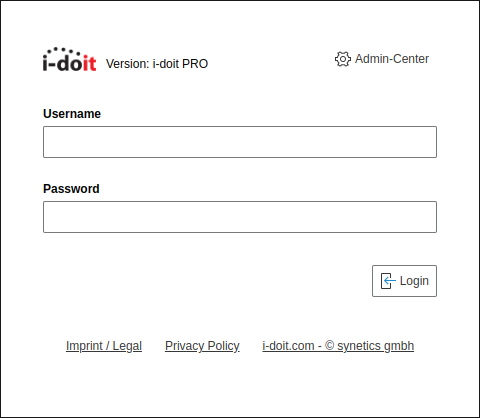 Local administrator
Even when you use a LDAP directory server or an Active Directory (AD), it is recommendable to set up a local user with all permissions. So you could always login with the local administrator should the external service be unavailable.
Welcome Text#
When you want to welcome users with a text during the login process, it is possible to enter a corresponding text under Administration → System settings → Login → Welcome text for Login.